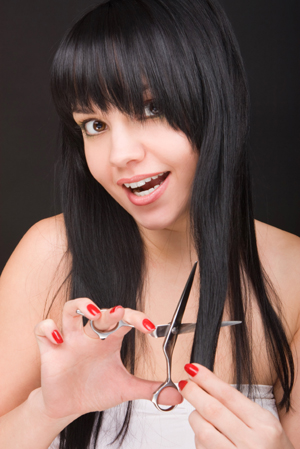 Stop! I know you need a trim, but please don't do it yourself. Instead, enter to win a free cut with my all-time fave hairdresser, Britt! She's been doing hair for nine years. She loves to give her clients WHAT THEY WANT. She specializes in giving you the cut that best suits your hair type. Cuz hair just looks better when it gets to do what it does best... let's not force it ladies.
Britt works at Salon MC [1952 s. 1100 e. SLC, UT]. Sorry, but you need to be a local to win (unless you want to fly into town!)
Here's how to enter:
2. Leave a comment and tell just how much you need a new do!
3. Become a fan of "a little great" on facebook and twitter, put our button on your blog, subscribe to our RSS feed and our twitter feed, tweet about our giveaway and/or facebook about our giveaway (each an extra entry -
MAKE SURE YOU MAKE AN EXTRA COMMENT TO TELL US WHICH OF EACH OF THESE YOU HAVE DONE FOR YOUR EXTRA ENTRIES
).
4. Check back next Thursday to see if you are our lucky winner (chosen randomly).
5. We love you and think you are a little great!
contest rules
here