Love to read? Love to save money? Need to save money? These are four books that were
key
in getting us through our schooling and four births on a teacher's salary
with no debt
. Very inspiring and practical material!
The Complete Tightwad Gazette by Amy Dacyczyn
. This is the definitive tome on all things cheap- how to make soap last, feed your family on less than $200 a month, have a family yearly clothing budget of under $100 (and she has five kids!), grow a garden and pay off your mortgage.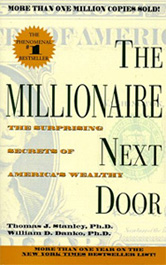 The Millionaire Next Door by Thomas J. Stanley
. This book might sound a bit cheesy, but it is actually a very insightful book about the lives of millionaires- people with a million liquid bucks in the bank. The two authors tracked millionaire behavior for twenty years and then published their findings. For example, most millionaries buy suits at Sears for under $70; most of their wives were school teachers, and almost all of them are business owners. Very fascinating. It also debunks the lifestyles of the seemingly wealthy and gives you the courage to live a frugal lifestyle.
The Total Money Makeover by Dave Ramsey
. This is probably the book that has had the greatest impact on our financial lives, hands down. We implemented his baby steps and are financially free because of it. No gimmicks, no funky investing. Just old fashioned hard work, long hours, saving and financial freedom.
The Super Red Racer by Dave Ramsey.
Our favorite in a series of money books for children, this one teaches how to work hard and save up. Our other favorite is Careless at the Carnival.