Summer is so here! I love the warm days and sunny rays. However, the surf and sun can be less than kind to our skin and hair. Here are a few of my personal favorite beauty products to help you get through the summer beautifully.
Tanwise Airbrush Tanning Spray... This stuff is similar to my pick for the Must-Have Product from Spring but the difference is that this is an actual self-tanning product. I love it for an even, professional looking fake tan. Different skin tint shades are available. I found it at Sally Beauty Supply.
e.l.f. Shimmering Facial Whip... This very well may be my all-time fave cosmetic! You will be amazed by the difference it makes! It will make you look so summery and fresh! And the best part is that it is only $1. Seriously, I can't recommend it highly enough. Availiable at eyeslipsface.com.
Aveda Exfoliant... I don't know about you but my skin can get pretty dry in the Summer. This exfoliant is the best I have ever found. It is super effective yet so mild that I even use it on my newborn baby. Find it here or anywhere Aveda products are sold.
Origins Gloomaway Boby Soufle... I read about a study once that showed that citrus scents make women feel younger and more vibrant. Well, this has to be true because this stuff makes me feel so good. I think you will love it too! Find it at origins.com or at some department stores.
Neutrogena Body Mist Sunblock... Skin Cancer is for the birds! Hook yourself up with a really great sunblock and get your tan out of a can this summer. You will thank me for it in 20 years. Available at drugstores.
Avenno Nourish and Shine Conditioner... Here is a little trick to protect your hair from that nasty chlorine/salt water this summer. Before you hit the pool/beach, wet your hair and apply conditioner, leave it in. This way your hair is already saturated and won't be able to absorb the damaging stuff. Go ahead, give it a try... available at drugstores.
OPI Nail Lacquer... available in a rainbow of colors, you are sure to find one that strikes your fancy. Right now I am sporting Pamplona Purple. Tip: to make your pedicure last longer this summer... purchase your shade of choice and take it with you to get your pedi. This way you will be able to do your own touch-ups and your pedi will be able to withstand the sun and sand much longer. Now available at Target.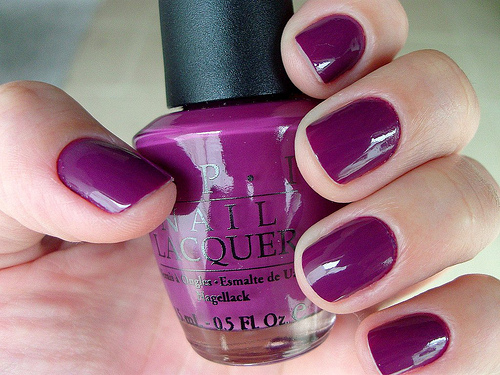 I hope these items help you have a little more fun in the sun this Summer!